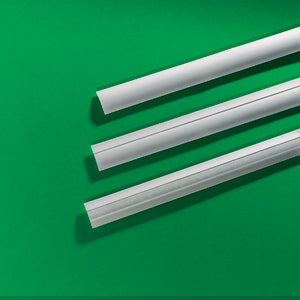 Perfectback® Strips (Box of 100)
Add perfect binding to your Fastback® binder's capabilities using the Perfectback® strips. Perfect binding lets you use a greater variety of cover stock to get the look you want. They can be offset, ink jet, laser printed, or even printed with heat sensitive inks. Strips are available in three different styles and multiple sizes giving you a wide range of binding options.
Lay Flat Strips
Designed to allow the book block to hinge freely from the spine, much like a hard cover book, it opens easily without ever damaging the title surface of your spine. It is an ideal choice for any documents that you need to stay open hands-free. The wraparound cover is not thermally bound to the book block, so you can use heat-sensitive cover materials without worry.
Pressure Sensitive Strips
These strips have a pressure sensitive adhesive to bind the book block to the cover. A very good choice for when you are using covers that cannot be subjected to heat. You may use heat-sensitive printing methods and cover materials for your wraparound covers. The entire spine is permanently attached to the book block.
Temperature Activated Strips
These strips bind a wraparound cover to the book block using the same adhesive that is binding the book block. The final step is done in the Fastback® binder, permanently attaching the spine of the book block to the cover. Covers using heat-sensitive inks, or digitally printed covers are not recommended for this product.
---
We Also Recommend